Father's Day Gift Ideas Your Dad Is Sure To Love!
Father's Day is right around the corner. If you are still searching for the right gift to give dad, look no further! Dad has been a part of life's milestones and important events. He supports your dreams and encourages you to keep pushing yourself. He always has your back, no matter what. Show him how much you appreciate him this Father's Day with a thoughtful gift
Avanti Series – Advanced Watchwinding Technology For Your Lifestyle!
Customizable to your lifestyle, the Avanti Series is housed in modular cabinets with an array of choices including winders, biometric safe, pen storage, digital atomic clock, jewelry case and coin displays for our Avanti 24, 36, and 48 winders. Display your watch collection in an impressive, free standing, automatic Watchwinder with matching pedestal base. The Avanti 16 and 12 are lockable, Italian-made cabinets with exotic Macassar veneers and genuine carbon fiber accents. Our most popular winder – the Avanti 6 – is designed to wind 6 watches and has two storage drawers. Each winder level has its own power switch but individual stations can also be turned off when not in use. The combination of exotic Macassar veneer and genuine carbon fiber trim results in an impressive cabinet that will retain a great look forever….
Use promo code DAD18 upon checkout online or call us at 800.800.4436 to save between $299.00 – $4,999.00 on our beautiful Avanti winders!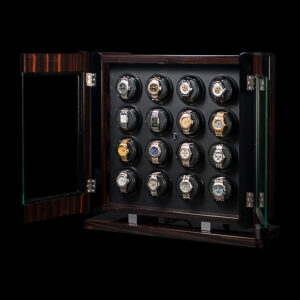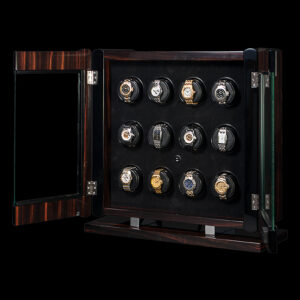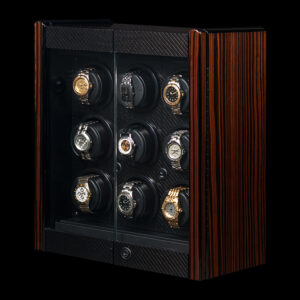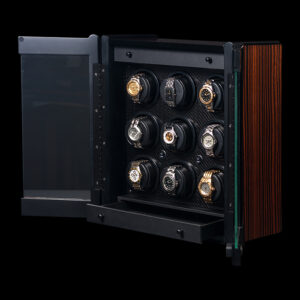 Free Roma 5 Jewelry Case When Purchasing Our Voyager Travel Watchwinder!
Traveling? Take this winder with you. Using the same unique mounting system employed on our Futura winders, the Voyager sets up easily wherever you are. Four AAA batteries power the concealed gearmotor or you can use the supplied AC/DC adapter. Both the base and the stainless steel mounting cylinder with mounted watch fit securely into the easy-to-carry, suede-lined leather carrying case.
The Roma Series is ideal for storing your watch collection, at home or on the go. Covered in exotic genuine leather, and lined inside with an elegant suede material, the Roma can be locked securely, while still providing a view of your collection through a glass window on top.